Loving Care in the Post Partum period
Post Partum: First Fourty Days & beyond
The post partum (or post natal) is period in time, that starts after birth. Traditionally the first 40 days, were seen as a sacred window(Ayurveda), a time period during which the gross of physical and emotional recovery takes place and during which rest and recovery is especially important.
In our society the most attention is given to the new baby and we forget that after a birth, the new mother has also been born. Post Partum in the Netherlands is seen as the week during which the new mother recieves Kraamzorg and is also referred to as "the kraam week."
This life changing transition from woman to mother requiers time and rest. New mothers are just as vulnerable as a new born babies and deserve the same love and attention. Their needs are virtually the same, gentle care and nourishment. But within them also lies tremendous power and being seen, heard and validated makes them grow in confidence, trust their instincts. To be able to care for the new baby, the new Mum deserves to be cared for herself. Her cup needs to be filled and that has to be the priority. Holding space for her is crucial.
Becoming a mother in a country and culture that is not your own, where you don't have a network might be a lonely and overwhelming experience.
It adds an extra dimention to the already intense transition into motherhood. I saw this first hand in my mother and father and have made it one of my life's missions to support new parents in this period in this predicament. Post Partum not only the first fourty days but the entire period you transition, where you go through the ups and downs and adjust to a new life as a parent.
As a Post Partum Doula i support the new mother and family in practial, emotional, spirutual and physical ways ALL the way through the first year.
"Mothers deserve as much care, gentleness, love and support as newborns do, because they have just been born themselves."
Overnight support is available as well! please contact me for more information.
I can put together a support services package that works just right for your family's situation.
Bengkung Bellybind comes from Malaysian post partum tradition, in Malaysia womens belly's are bound during the first 40 days after the birth of their baby..
The belly bind is a 17 meter long pure cotton fabric which is used to bind the new mothers belly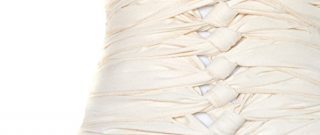 The belly bind gives support to the empty belly which housed life for 9 months. The belly now has a lot air and emptiness. To bring everything back together again through the fabric holding it all close recovery might be aided. It helps you in your posture, which especially during breastfeeding might get neglected.
Emotional/Spiritual Support
The support the belly bind offers is not only physicial. After the birth many women express that they feel very "Open". A belly bind acts as a literal and metaphorical hug and helps you feel whole again and protected in your openness from the outside world.
Together with my dearest wam and loving colleagues Anita Dobre and Karina Vos, we support women in this 3 hour long ritual which marks
the right of passage of the new mother.
The rebozo closing ritual (know as well as "Closing of the Bones" stems from the Mexican Cerrada tradition,
the 40 day confinement period after the birth of a child, but ritual "closing" of the new mother
is seen in cultures all around the world. From the Middle East to Asia, to traditional pagan traditions.
It marks the ending of an important transitional period for the woman.
Her pregnancy and the birth of her child, and of her new self. The woman who has given birth will now go into the world
caring for her baby and for herself
is surrounded and embraced by love of other women, mothers, with the fabric of the rebozo shawls.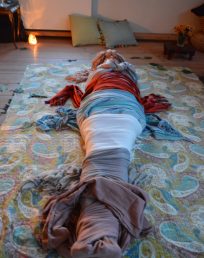 I highly recommend this fantastic TED talk by Alexandra Sacks MD about the transition to motherhood.
"Paulina is er voor je, voor, tijdens en na je bevalling. Ze kijkt met jou naar hoe jij het fijnst kunt bevallen, is de hele bevalling je steun en toeverlaat en na de bevalling blijft ze jullie als nieuwe mama en gezin ondersteunen zodat dat jij de tijd krijgt om aan je kindje te wennen en goed terug kunt kijken op je bevalling. 
Juist de post partum ondersteuning was heel fijn. Ik heb haar post partum prep workshop niet kunnen volgen (bestond toen nog niet) maar ik kan hem iedereen aanraden, je bevalling is maar kort, daarna begint het pas. 
Paulina brengt heerlijke zachte vrouwelijke rust mee. Ze maakt echt contact met je en stelt alles in het werk om te zorgen dat jouw bevalling verloopt volgens jouw wensen. 
Belangrijk hierin zijn ook dat zij jouw rechten als vrouw niet uit het oog verliest, tijdens een bevalling. Ze kan je hier veel over informeren.."
Lees de prachtige verloop van deze bevalling en laat je inspireren
"Het is nu een tijdje geleden dat Paulina bij ons was voor de babymassage en ik heb er nog steeds profijt van. Ik heb contact met haar gezocht omdat ik de band tussen mijn dochter en mij wilde versterken en ik had gehoord dat babymassage daar een goed middel voor was. Borstvoeding lukte niet, waardoor ik me echt zorgen maakte om onze bonding. Naast dat babymassage echt super leuk is, geeft Paulina heel veel praktische tips die passen bij ons kindje. Maar even belangrijk is dat ze ook echt oog heeft voor de moeder en daar met al haar ervaring heel veel tips en informatie kan geven waardoor je na haar bezoek als moeder heel veel positieve energie hebt gekregen en je een relaxte baby hebt. Uiteindelijk is de borstvoeding door tips van Paulina (ze heeft me in contact gebracht met de juiste mensen), zelfs nog gelukt na 9 weken. Achteraf gezien ook een kwestie van ontspannen en vertrouwen krijgen, maar juist door Paulina kreeg ik dit weer. En door de lessen van Paulina, geniet onze dochter zichtbaar van de massages die ze krijgt. Dus beiden zijn wij ontzettend tevreden en blij met de babymassage cursus van Paulina!"
Jeanne heeft de privé baby massage cursus gevolgd in April 2019

"Ik had van te voren verwacht meer te weten te komen over wat ik kon verwachten in de periode na bevalling en dat is ook zeker wat er is gebeurt! Het was ontzettend fijn zo ondergedompeld te worden in de fijne sfeer van de studio en jouw presence terwijl ik van alles leerde over de post partum periode. Door jouw cursus heb ik nóg meer zin in het moederschap! De zin ´Als het goed gaat met de moeder, gaat het goed met de baby´ heeft veel indruk op me gemaakt. Erg bijzonder!"
Lotte volgde de Post Partum Prep workshop – januari 2019
" the biggest thank you for My  Doula  Paulina who was there as My Advocate in a fully medicated pre planned C section. Thank you for making sure I was comfortable with my own choices! "
" I would like to openly thank my super duper  Doula Paulina  Glapinski-Zoethout  for her care and support and utmost professionalism in being a wonderful shoulder to lean on whether during the pregnancy or the delivery or after.. I can't recommend her enough & I cannot express how grateful I'm for having her in my life!!"
"Deze workshop is echt een must voor elke moeder-to-be. Je leert er de dingen die je niet tegenkomt op de mommyblogs of in tijdschriften, maar die juist super belangrijk zijn voor een fijne start. Als je voorbereid bent op de eerste tijd na de bevalling en daarin investeert heb je er jaren plezier van. Want als je iets vergeet na de bevalling dan is het wel om lief en zacht te zijn voor jezelf."
Shinta volgde de Post Partum Prep workshop – zomer 2018